KAP - Kontor for Arkitektur og Plan
Ostasteidn
Ostasteidn is situated straight north of the Sandsfjord Bridge on the west side of Sandsfjorden.
Architect:

KAP - Kontor for Arkitektur og Plan

Finished:

2018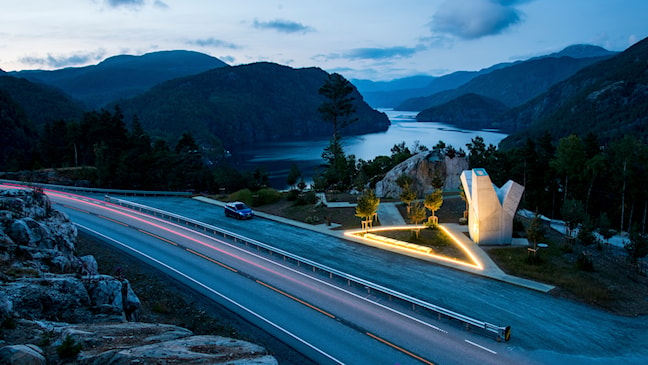 The project consists of a tall rock with straight lines, a separate toilet building and walkways leading to the seating benches by the viewpoints. In the shaping of the landscape, emphasis was placed on cultivating the qualities of this area. At the seating area in the north, the main point is the view of Sandsfjorden, and the seats by the rock have natural shelter from northwestern winds. The walkways are covered in fibreglass grating that provides good visual quality as well as being durable and open to vegetation. The grating is recurrent along edges, seats and tabletops, in combination with full fibreglass panels. The centre point of the area is the almost 6-metre-tall service building. With its raw, mossy concrete outside and wavy inside, it is centrally placed at the intersection of the walkways to the viewpoints. Local topsoil with heather has been restored in order to revegetate the area. In addition, a number of pine trees have been planted to recreate the original landscape.
Norwegian artist Lars Hertervig's paintings inspired the architects' design of the area. The painter is known for his characteristic portrayal of Ryfylke scenery.
Ropeid
Architect:

Architect:

KAP - Kontor for Arkitektur og Plan

Finished:

2004 og 2021