Ørnesvingen
Ørnesvingen is one of two spectacular vantage points along the Norwegian Scenic Route Geiranger – Trollstigen.
Architect:

Landscape architect:

Artist:

May Elin Eikaas-Bjerk

Finished:

2006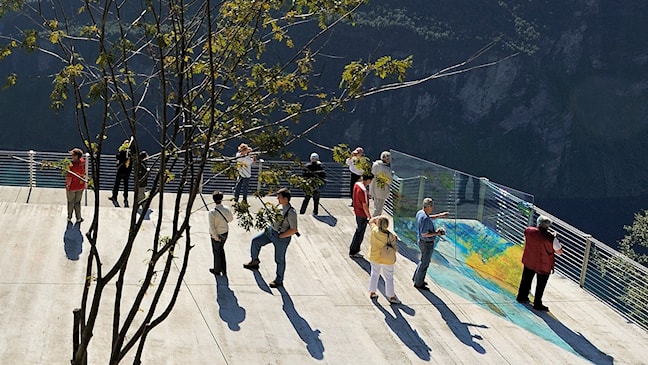 The site is located amidst scenic natural surroundings with a breathtaking view over the Geirangerfjord. The design objective has been to reinforce the experience of this dramatic and unique landscape. The Ørnesvingen site consists of two parts. On "the balcony", three slabs of white concrete have been cast in place at varying heights, creating a landscape of steps, benches and open spaces towards the fjord and the scenery. An existing stream runs over a glass plane across the site before hurtling over the edge down to the fjord. In "the curve", a concrete floor protrudes out over the old abutment wall. Broad benches in prefabricated, ground white concrete follow the shape of the driving lane, separating motorists and pedestrians.