Ureddplassen
Ureddplassen can be accessed from the east or from the west.
Architect:

Haugen/Zohar Arkitekter

Landscape architect:

Finished:

2018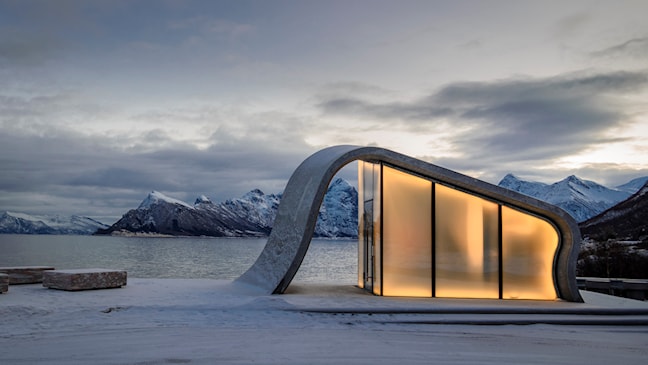 Ureddplassen can be accessed from the east or from the west. If you come from the west, you will be looking towards the inner end of the fiord, at green mountain sides and rocky peaks. When you arrive from the east, you will have a wide view of the sea and the horizon.
Ureddplassen was already an established rest area with a war memorial to the sinking of the submarine "Uredd". The rest area is also a popular destination among local residents and tourists alike, coming to see the midnight sun or the northern lights.
The new rest area has been furnished with a wide viewing terrace in concrete. A wide set of steps, alternately for walking and seating, leads down to the beach area. The view from the steps is expansive, and the seating is well protected from traffic noise. What is unique about the design is that all concrete elements have soft, rounded shapes instead of straight edges. The soft lines continue in a wave-shaped concrete toilet building framing the view towards the north. The walls are of glass that is lit in the dark. The terrace has been furnished with seating benches in the characteristic marble from Fauske. The base of the monument is made of the same material and is well placed.
The sevice building is designed ba Haugen/Zohar Arkitekter
The rest area is designed by Landskapsfabrikken AS - Inge Dahlman