Lovra
The viewing point Lovra lies hidden in the forest south of Sand in Suldal municipality.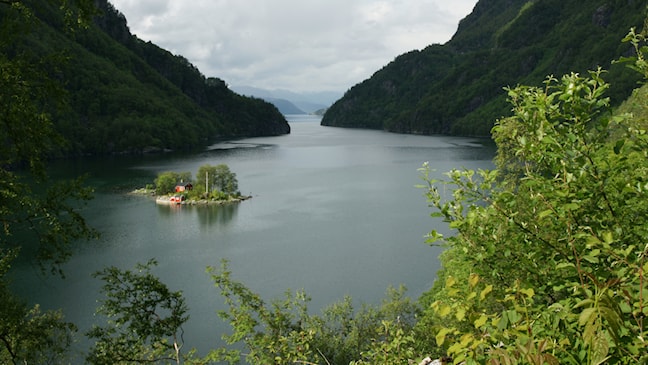 Previously, when you arrived at the rest area at Lovra it was impossible to form an impression of what lay ahead, unless you stopped and ventured out on the hill. The trees along the road partly blocked the wide view, and it was therefore important to draw your attention to the path out to the viewpoints. A rest area visible from the road would tempt travellers to take a closer look at the area. Helen & Hard chose to keep the old concrete blocks as a base for the bench, and attached the table top in yellow, oxidised metal to a natural rock from the scree. The same expression recurs in the tables and benches at the viewpoints on the hill and by the cliff.
Tyrvefjøra
With the service building's distinctive and unique architecture Helen & Hard architects have given the rest area in Indre Ålvik a new identity.
Architect:

Helen & Hard

Finished:

2022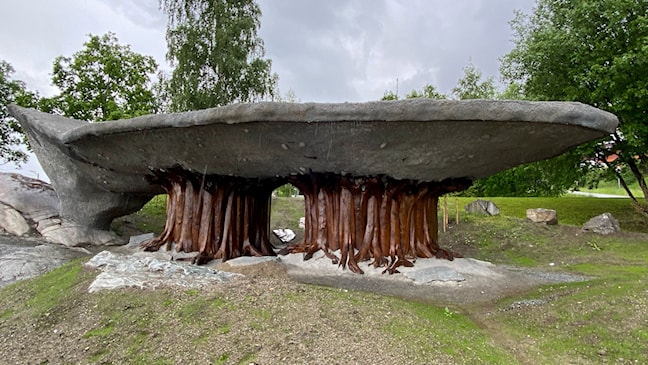 The title of the project is "A Geological Window". The architects have found inspiration for the project in the local natural surroundings, and have explored the geology of the place with its sediments, cracks and folds.
The idea is to use trees with trunks and roots as the building material. The result is a building consisting of specially prepared pine trunks and concrete. The tree trunks have been taken from the area along Hardangerfjorden, and the roof is a concrete structure with an aggregate of gravel and pebbles. The two building bodies under their joint roof structure have one regular toilet and one disabled toilet, as well as a technical room.
The area around it includes pedestrian/green zones, benches and rocks. The gravelled car park is kept without major changes, and is demarcated from the furniture area by boulders. The goal has been to create a robust facility with regard to future operation and maintenance.