Steilneset
The memorial is located in the vicinity of the assumed site of the executions.
Artist:

Louise Bourgeois

Finished:

2011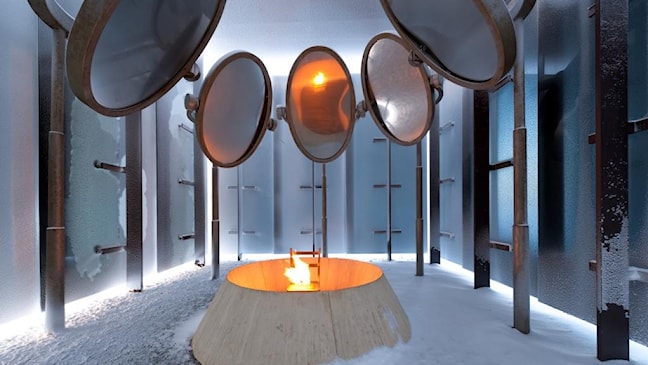 This history is communicated through excerpts from historical sources as well as art and architecture in an international style, realized in a unique collaboration between the artist Louise Bourgeois and the architect Peter Zumthor.
Bourgeois' contribution includes a chair with five gas flames reflected in seven oval mirrors encircling the chair. The artwork is placed in a square building with dark glass walls and a steel ceiling designed by Zumthor. The building acts as a clear point of attraction, contrasting with its open, weather-beaten surroundings.
Zumthor's architecture also encompasses a memorial hall 125 metres in length, with a lighted window for each of the victims who were executed in Finnmark county. The hall is formed by canvas fastened with steel wires to an external, exposed framework. The canvas has been specially manufactured to withstand the forces of nature that may threaten to sweep the entire construction into the sea at any time. Zumthor is renowned for his uncompromising approach, and here he has yet again pushed a building to the limits of its tolerance and endurance.
When you enter the memorial hall, you find yourself in an exposed position on a long and narrow wooden walkway, suspended approximately 60 cm above the textile and several metres above ground. The canvas is firmly and stably attached to the outer construction, but you would nevertheless not want to lean against it. The canvas is dyed black on the inside, and the 91 death sentences are presented on the walls, one by one. For each of the 91 verdicts, a small window has been cut into the canvas at a varying height. In front of each window, a single light bulb is suspended from a plain cord, supplying the only light in the room. The memorial hall creates an extraordinarily effective, physical experience of the narratives being communicated. Zumthor has definitely succeeded in creating an emotionally charged space.