Ersfjordstranda
Ersfjord beach is located at the farthest end of Ersfjord on the island of Senja.
Architect:

Tupelo Arkitektur

Landscape architect:

Finished:

2014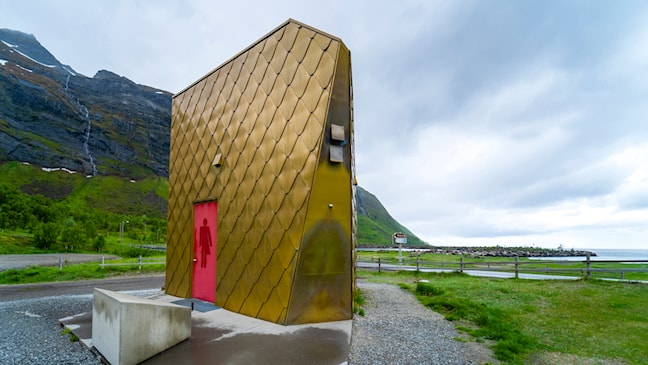 Tupelo Arkitektur:
The beach is surrounded by tall mountains on three sides, which form a magnificent landscape area. The white sandy beach is a popular recreational area. The beach borders sand dunes – a particular type of flora that is rear to find in Norway. On beautiful summer days, as many as 60 cars could be parked along the road and on the grassy field down towards the beach, causing chaos and excessive wear and tear on the vulnerable vegetation. A car park and a toilet facility were built in the area where the impact on nature would be minimal. The toilet facility has a triangular geometric shape that mirrors the surrounding mountains. The exterior is clad in Corten steel. The rust colour metal will ensure that the building will blend in with its surroundings regardless of the season. The inside of the toilet facility is clad with polished stainless steel. A glass roof fills the toilet facility with light and provides a view of the surrounding nature. With simple interior lighting, the building can be used as a lantern at night.
Østengen og Bergo AS:
On beautiful summer days, many cars were parked along the road and on the grassy fields and sand dunes at Ersfjordstranda. This led to traffic chaos and significant wear and tear on the fragile sand dune vegetation. Østengen & Bergo prepared a landscape analysis as a basis for assessing where a new car park could be located in the very vulnerable landscape.
The result of the analysis was a recommendation to design the car park in the least exposed area with the least valuable biotope. The recommended solution places the car park partly behind an existing sand dune. It was stressed that the car park should join the sand dune's original shape without any encroachments. Placing toilet facilities, paths and sitting areas in the vulnerable terrain was also part of the assignment.
The service building is designed by Tupelo Arkitektur.
The rest area is designed by Østengen og Bergo AS.