Makeover for Tyrvefjøra rest area on Norwegian Scenic Route Hardanger
On Friday 3 June, the Norwegian Public Roads Administration will cut the ribbon for a new distinctive installation in the Scenic Route family.
With the service building's distinctive and unique architecture, Helen & Hard architects have given the rest area in Indre Ålvik a new identity. In addition to the scenery in the area, the architects have explored the geology with its sediments, cracks and folds.
"We wished to emphasise the intimate and almost secretive qualities of this place, by building the toilets as part of the landscape," says architect Karen Jansen of Helen& Hard.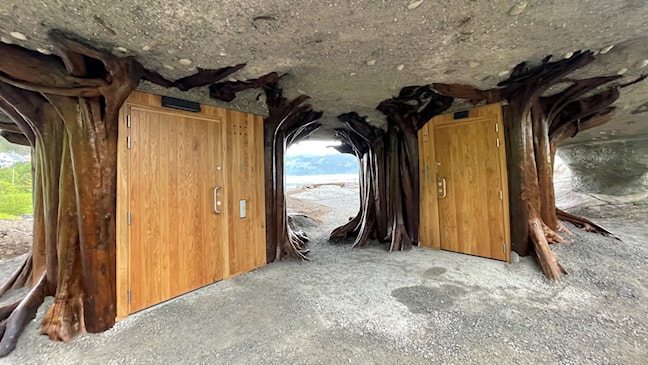 The result is a building consisting of specially prepared pine trunks and concrete. The tree trunks are taken from the area along the Hardanger fiord. The two building bodies under their joint roof structure have one regular toilet and one disabled toilet, as well as a technical room. The roof is a concrete structure with an aggregate of gravel and pebbles.
Peder Nernæs at Horda Tre AS started with an excavator and plenty of confidence when they were given the job:
"We had to go into the woods and topple trees with a machine to get the right roots with the right angle," he says. After peeling, splitting, washing, drying and impregnating the wood, we created modules of 4 – 5 trunks clamped together with with brackets, which were hoisted into place and reimpregnated with wood oil.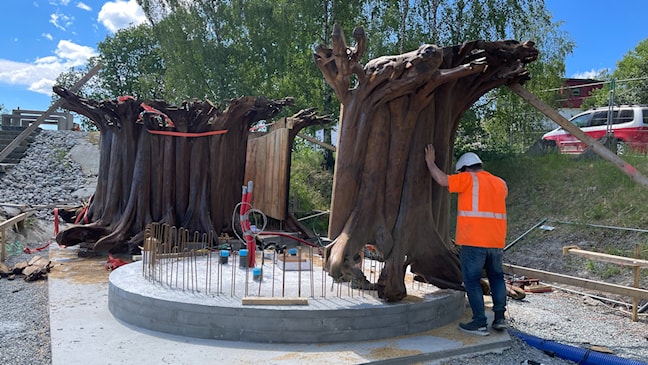 Torgeir Næss, Mayor of Kvam municipality believes that the new building is untraditional, but also partly built with traditional and local materials:
"The encounter between modernity and tradition is a good description of Ålvik. In Kvam we live our lives in the midst of fairytale scenery. We like to share this experience with others as they travel through our municipality," says the Mayor of Kvam.
The opening ceremony for the new Tyrvefjøra rest area will begin at 1 p.m on Friday 3 June.
Architect: Helen & Hard Arkitekter
Contractor: Brun Bygg AS
Contracting client: Norwegian Public Roads Administration
Completed: 2022