New projects 2022
During 2022, the NPRA will be completing 11 new architectural projects. The number of completed Scenic Route projects will then be 172 during the year.
Through determined efforts for almost 30 years, the Norwegian Public Roads Administration (NPRA) has made Norwegian Scenic Routes an attraction with international appeal. Road travellers are provided with service facilities as well as the experience of innovative architecture and thought-provoking art in spectacular scenery.
Making it easy for tourists to travel by car from Jæren in the south to Varanger in the north contributes to value creation in the tourism industry in line with the purpose of the initiative.
Here are this year's new projects:
Trælvikosen, Helgelandskysten
Rest area with stepping stones on the shore
Trælvikosen, with its 55 stepping stones placed in a row, takes the visitor across the sandy sea bottom in a precise line from the beach towards a small islet and the view towards Torghatten. The stepping stones form a line that shows the tidal level; they are fully visible at low tide and completely gone at high tide. The new rest area also includes a gravel car park, tables with benches and a path between the parking lot and the stepping stones.
Architect: Snøhetta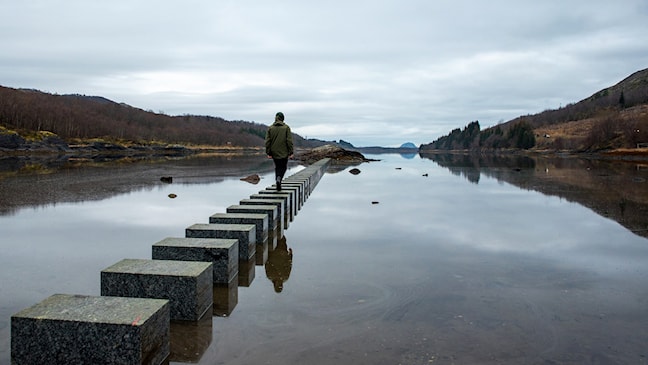 Tyrvefjøra, Hardanger
Toilet facilities in rest area by the fjord
In a small bay outside Ålvik on the Hardanger fiord, Tyrvefjøra rest area will be provided with a service building different from all others. The distinctive building consists of two separate toilets under a roof that appears to be floating in the landscape. The outer walls of the toilets will consist of tree trunks with roots. By building it as part of the landscape, the architects wish to emphasise the intimate and almost secretive qualities of this place.
Architect: Helen & Hard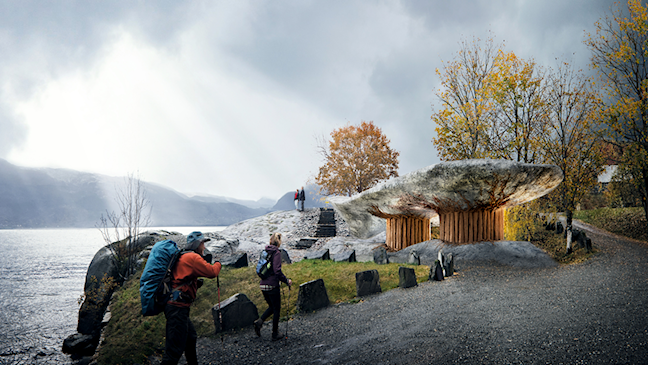 Espenes, Hardanger
Rest area with viewing pavilion and toilet facilities
In the powerful fiord landscape, the NPRA is building a modern Scenic Route facility with a great view northwards along Sørfjorden. The distinctive feature of this facility is a 64-metre long and 4-metre wide steel roof structure with 12 roof modules of varying heights, held up by massive steel pillars. Under the roof there will be seating and a service building with three regular toilets and one with disability access.
Architect: Code arkitektur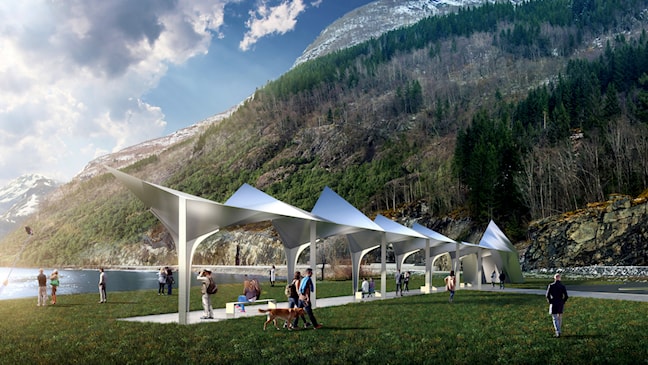 Flesefossen, Ryfylke
Rest area with toilet facilities
Along National Road 13 between Nesflaten and Røldal, where Flesefossen waterfall comes rushing down the mountain side, a concrete platform is being built that will carry a longitudinal steel and wood structure and offer opportunities for a rest with a great view to the waterfall. The new toilet facility will be integrated in the structure. The project also includes seating areas in the terrain and parking for eight passenger cars and two buses.
Architect: Haugen/Zohar Arkitekter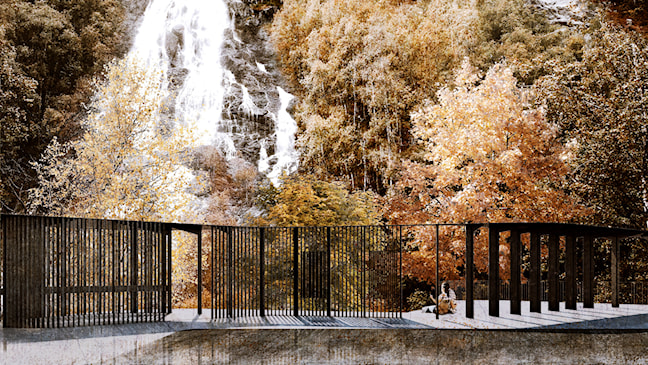 Hamningberg, Varanger
Birdwatching hide and sea view
The new birdwatching hide in Hamningberg is located along the major bird migration routes that follow the Norwegian coast and make Hamningberg and northern Varanger a popular stop for migratory birds and birdwatchers. The hide provides shelter and offers a great view towards the sea. The outer façade has been flame treated for protection against the elements, while the inside has wood panelling made from driftwood from Varanger. The bird hide in Hamningberg is a new contribution in the efforts to strengthen Varanger as a destination - with birdwatching, unique nature and exciting culture as ingredients. According to analyses, these efforts contribute to strong value creation in the region.
Architect: Biotope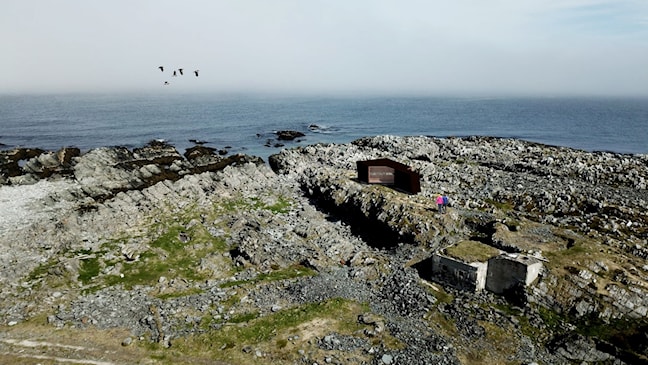 Sundshopen, Helgelandskysten
Rest area with toilet facilities and jetty
In the lush agricultural landscape of Sømna, NPRA is building a new atmospheric Scenic Route stop at Sundshopen in the form of a rest area with a stone jetty. The jetty extends 65 metres from the beach across the tidal shore. The jetty will be built using traditional craft methods, with stonefilled boxes built from horizontal logs in the old log house style, and with stone slabs as cover. A new modern service building, a large car park and a trail down to the rest area by the beach will complete Sundshopen as an attraction.
Architect: Rever & Drage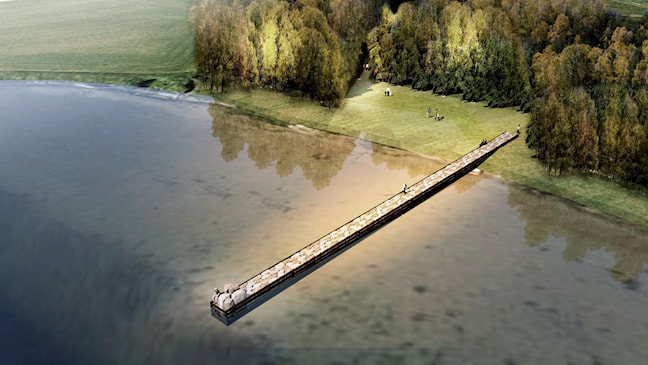 Sluppen, Aurlandsfjellet
Parking, rest area and trail to waterfall
A parking layby along the narrow and winding County Road 243 is being made into a picnic area with four parking spaces and two seating areas. The rest area are bounded by a natural stone parapet wall. The terrain will have a gravel path with stone steps down to the Erdalselvi river, with a couple of seating places along the path and a bench in the wood. From here you can walk on trails to the Sluppefossen waterfall.
Architect: Østengen og Bergo AS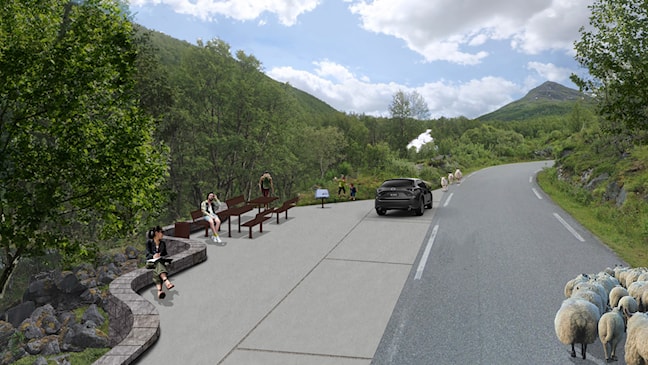 Madland harbour, Jæren
Rest area with toilet facilities and storm-watching cabin
On a small embankment above the harbour, an elongated parking area is being built, with a 180 degree view of the North Sea. The service building will have two toilets and a cladding of specially designed façade bricks that glow in the dark like a lantern. Down by the harbour, there will be a storm-watching cabin that picks up the visual expression of the existing boathouses in the area.
Architect: Haugen/Zohar Arkitekter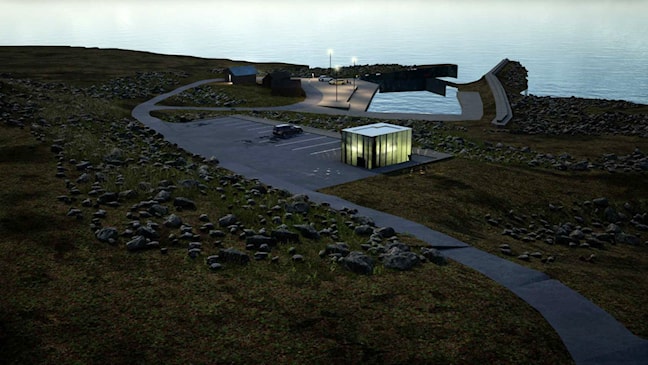 Måbø Bridge, Hardangervidda
Rest area and photo spot
Måbø Bridge is a stone arch bridge from 1910 across the river Bjoreio in the valley of Måbødalen. It was taken out of service when the new route for National Road 7 was ready in 1986 and is a protected cultural monument. In the bridge area, the old picnic furniture will be replaced with new benches in a round fenced-in seating area. From here, a path will be built over to a safe vantage point from where the waterfall and bridge will be an exciting photo motif.
Architect: 3RW
Brunstranda, Lofoten
Rest area with toilet facilities and view
The new service building will have toilet facilities, a technical room and a lounge for shelter with view towards the open sea. In connection with the service building, there will be bicycle parking facilities, a container for recycling and waste disposal, and furniture below the building.
Architect: Studio Vatn &Jørgen Tandberg Arkitektur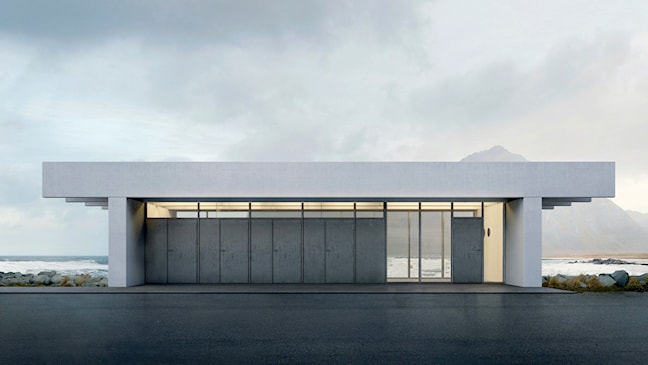 Vøringsfossen, Hardangervidda
Viewing platforms, path and toilet facilities
In the summer of 2022, tourists will be able to experience Vøringsfossen waterfall and Måbødalen valley from safe viewing platforms and paths at Fossetromma. The walk from Fossli across the Step Bridge to Fossetromma will be complete. This facility will be supplemented with toilet facilities of the same standard and capacity as those at Fossli by the end of autumn/winter.
Architect: Carl-Viggo Hølmebakk AS