Opening of Trælvikosen
On Thursday 9 June, the Norwegian Public Roads Administration opened a new distinctive installation on Scenic Route Helgelandskysten.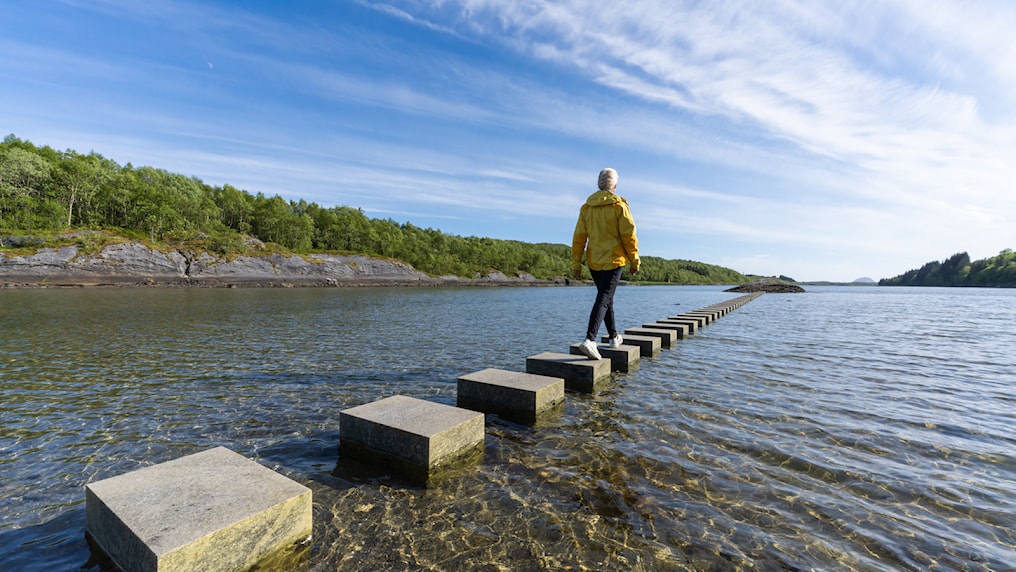 At Trælvikosen rest area in southern Helgeland, 55 stepping stones allow the visitor to walk dry-shod across the sandy beach before the high tide takes over.
The tidal variation project at the new Trælvikosen rest area consists of a straight horizontal line of rectangular stones laid out over the sandy bottom towards an islet and the view towards Torghatten. The stepping stones are fully visible at low tide and completely gone at high tide.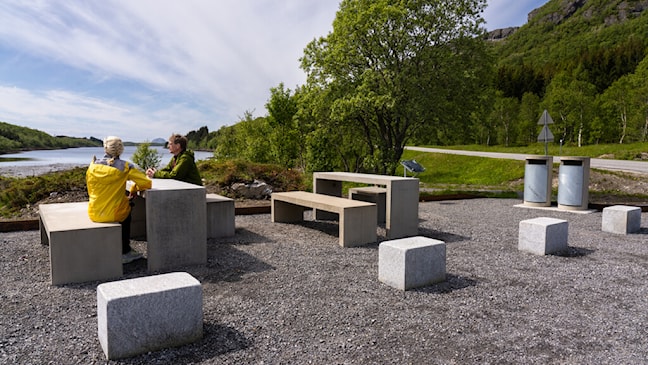 Beside the stepping stones, the rest area consists of a new gravelled parking area, tables and benches, and a path down to the beach with the stepping stones. With the tidal variation installation, the architects at Snøhetta aim to highlight the slow and changing nature.
"When the sea retreats, the beautiful sandy bottom emerges with its lugworm casts and snail trails, along with round stones in all sorts of formations," says Thea Kvamme Hartmann of Snøhetta.
When the tide flows in, it is a different story.
"Then the picture changes, as does our experience of the landscape space. It happens fast, and yet time seems to stand still as the water rises millimetre by millimetre," says landscape architect Hartmann.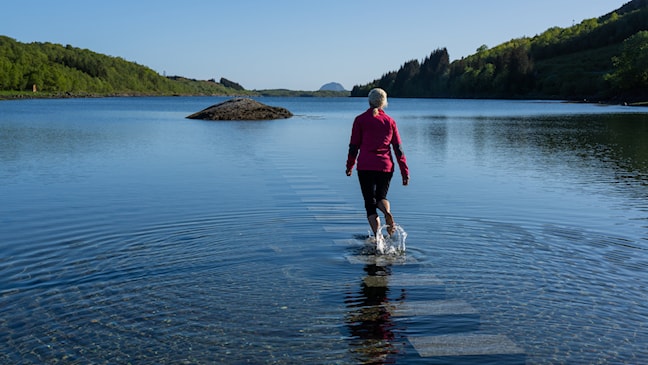 Establishing a trail of 55 heavy stones in a body of water that is constantly rising and falling requires careful planning in line with the tidal table, says Idar Flostrand of the construction company OK Kristoffersen. "It depended on the wind and weather, but we were able to work efficiently for around four hours at a time before the tidal water forced us back on land," he says.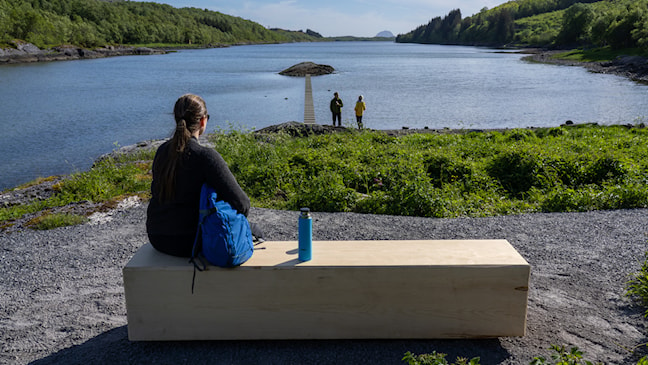 Eilif Trælnes, Mayor of Brønnøy, is pleased with the new rest area and its qualities.
"Norwegian Scenic Routes and their projects are important as they put the region of southern Helgeland on the map, both nationally and internationally.
Besides, people are curious about Trælvikosen; who doesn't want to walk on water?" asks Trælnes.
Architect: Snøhetta - Landscape architect Thea Kvamme Hartmann.