70°N arkitektur – Gisle Løkken
Gårdsvatnet
To provide access to these wetlands with their teeming bird life, three bird-watching towers, each 6.5 metres tall.
Architect:

70°N arkitektur – Gisle Løkken

Finished:

2004
They were built at Skjærpvatnet, Gårdsvatnet and Steidvatnet lakes in Lofoten. The towers are stable, providing bird-watchers with a safe observation place even in strong wind. In addition, the towers are shaped so as not to disturb the birds during the nesting season.
Grunnfør
The alternative cycle route to the E10 on the seaward side of Austvågøy island is relatively long, and the commercial options are few and far between.
Architect:

70°N arkitektur – Gisle Løkken

Finished:

2005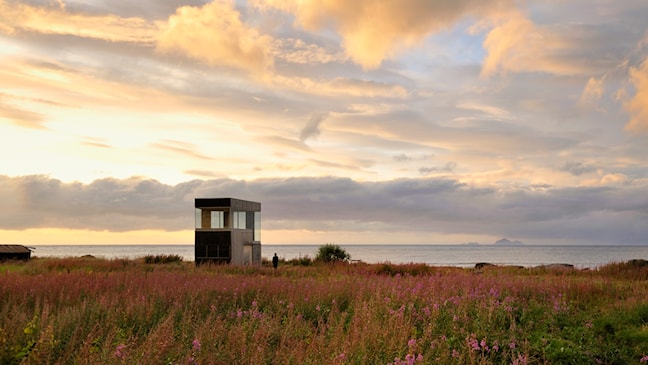 A building for cyclists was therefore constructed at the mid-point of the stretch, at Grunnfør on Austvågøy in the northern part of Lofoten. The architect chose a spot near the edge of the ocean, with an open view of the sea and the peaks in Vesterålen. Here, weary cyclists can seek shelter from the wind while enjoying the scenic view. Bicycles can be parked in a shed near the entrance, and the ground floor also offers facilities for cooking. From the floor above, visitors can enjoy a 360-degree panorama of the majestic scenery.
Torvdalshalsen
Torvdalshalsen offers the best view of the central part of Vestvågøy island, including rolling agricultural land as well as the Viking Museum at Borg.
Architect:

70°N arkitektur – Gisle Løkken

Finished:

2005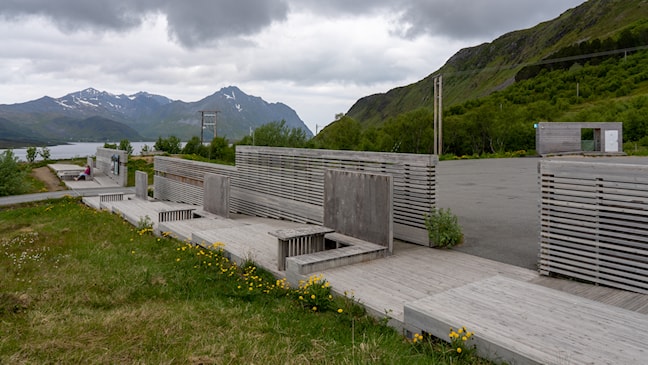 The rest area has been designed to receive large coach-loads of visitors, while also offering silence and comfort for travellers to enjoy a meal and the spectacular view. The architect has designed a plain rest area with a wooden wall facing the best view. Benches and an information board are integrated into the wall.