Peter Fischli / David Weiss
Steinplassen
Rock on Top of Another Rock.The theme for the art project at Valdresflye is cultural history.
Artist:

Peter Fischli / David Weiss

Finished:

2012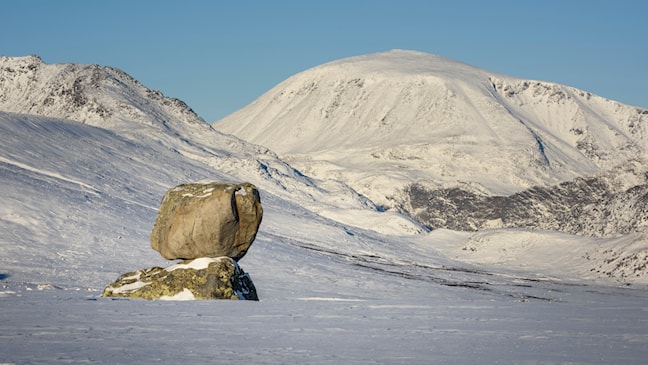 Valdresflye is a particularly exposed and naked high mountain plateau. However, it is surrounded by rural communities with rich traditions in Norwegian cultural history. Valdresflye is a crossing between the valleys in the area. Norwegian artists have written about the area in the history of literature. Henrik Ibsen, among others, located «The Buck Ride» in his play Peer Gynt to the Besseggen Mountain at Gjendeosen, only a few kilometres from Valdresflye.
The Swiss artists Peter Fischli and David Weiss were invited to create a work of art for Valdresflye. Fischli/Weiss noted the mountain hiking culture and the tourists' game of building mini-cairns in the mountains; rocks balancing on top of other rocks. Their response to this culture is the work of art Rock on Top of Another Rock. A 93-tonne rock has been picked up and placed on top of another rock, oscillating disturbingly and oddly on top of each other. If you do not know the history, you will inevitably ask the question of whether this is man-made, or if it is the ice that has placed the rocks on top of each other.
A similar sculpture has been installed in Kensington Gardens in Hyde Park in London, in cooperation with Serpentine Gallery. The two sculptures belong to the same project and must be viewed in the light of each other, but they have been installed in two extremely different surroundings and will therefore need to be interpreted independently of each other. The two installations lead us to reflect on the role of chance in nature, and that which is man-made in the park.
The sculpture at Valdresflye was realised in 2012; the installation in Kensington Gardens in 2013.
Peter Fischli and David Weiss worked together in the period 1979 – 2012. Their joint works are regarded as among the most important in contemporary history. They lived and worked in Zurich, where Fischli currently is residing.Their works have always been characterised by poetry and humour – it has an apparent simplicity that is both thought-provoking and filled with question marks. It is about life's many subtle events and a game of alternate realities. The works of art are illusory and partially absurd, triggering amazement and reflection in their audience.