Rintala Eggertsson Architects
Høse bru
The bridge is located just north of the town Sand in the municipality of Suldal on the west coast of Norway.
Architect:

Rintala Eggertsson Architects

Finished:

2013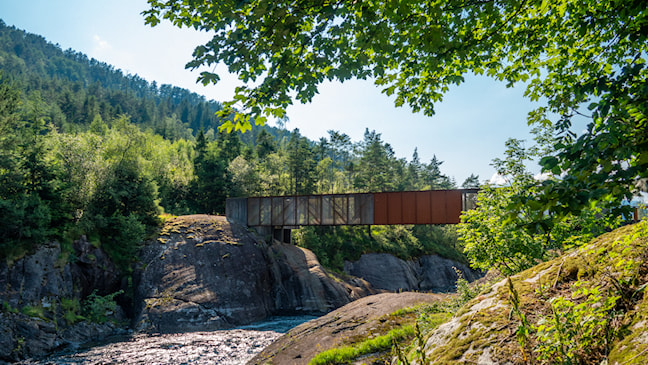 It is the result of extensive design process which started in 2008 after a design workshop together with Czech architect Ivan Kroupa where the inhabitants of Sand were given the opportunity to make a referendum over some of our initial ideas. The bridge connects the town to a vast wooden landscape which is used for recreation by the inhabitants of Sand. This new connection makes the area more accessible for the general public and allows people of all generations to use the area. The idea behind the chosen proposal was to establish a horizontal reference line in the landscape, to emphasize the undulant and organic shapes in the bedrock. The bridge consists of two steel lattice beams in corten steel on each side of the walkway, with a system of vertical and diagonal members. On the south side of the river, after crossing the bridge from Sand, a small pavilion in concrete was made to accommodate for small picnics and pit-stops for passers-by.The effect of closed and open space over rushing water gives a uniquely varied audio and visual passage, and an elegant interplay of the man-made and natural.