Todd Saunders og Tommie Wilhelmsen
Stegastein
Stegastein on the Aurland road (The Snow Road) near Aurlandsvangen has for centuries been an attractive vantage point.
Architect:

Todd Saunders og Tommie Wilhelmsen

Finished:

2006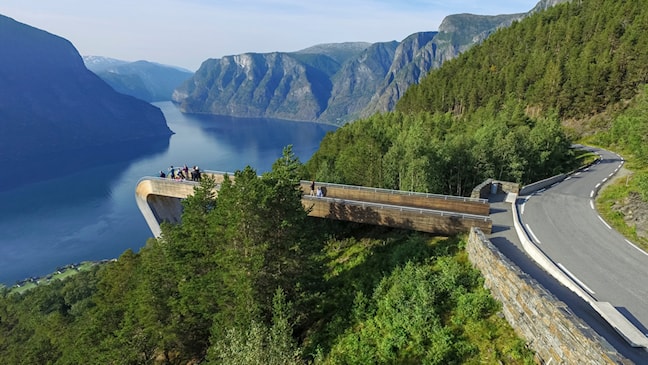 Until 2006, the site did not have provisions for visitors. The architects wished to use a viewing platform to lift visitors out into the landscape to reinforce the impression of the Aurlandsfjord 650 metres below. The platform is light, dynamic and suspended. It is four metres wide and 30 metres long, built of laminated wood and steel with a solid glass pane at the outer end, further augmenting the experience of drama in this mighty landscape.
The architects wanted the small service building to be something of a contrast to the suspended platform, and designed a heavy, solid and plain building placed directly on the ground. The service building in black concrete and wood has been placed slightly over the edge of the cliff to allow visitors to enjoy the majestic view, while ensuring privacy to those inside.