Bukkekjerka
Furthest out towards the sea are the lighthouses, reminding us of the previous fishing activity in the area.
Architect:

Morfeus Arkitekter

Finished:

2018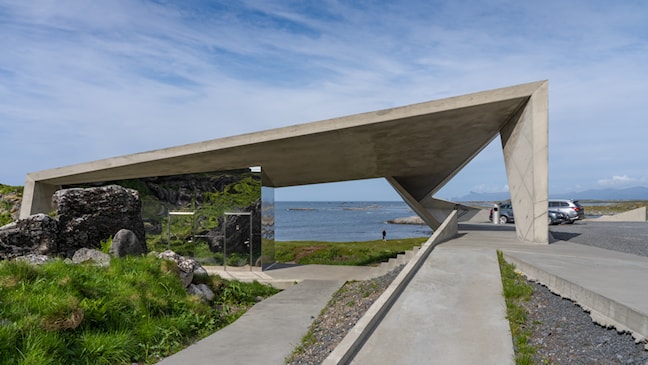 The landscape at Børra is highly varied. When you pass the portal between Bukkekjerka and Børrafjellet, the landscape opens up as a set of plains, with the mountainside as the backdrop, and you get the first glimpse of the magnificent row of mountain peaks in the north.
In order to protect the area south of Bukkekjerka, we have chosen to place parking spaces and service functions on the north side. The compact core of the service building consists of the toilet facilities, which have been placed in continuation of natural elevations in the terrain. From inside the toilet rooms you have a view of the burial mound, the open sea and the mountain peaks to the north. On the outside, the mirror glass windows reflect the magnificent landscape. If you walk up to the top of Bukkekjerka, you can enjoy the view from a small bench. At the foot of Bukkekjerka's southern wall we have made a rest area with benches that harmonise with the formations of the landscape.
The space around the rest area can be used as an audience area for various events, for storytelling, for memorial services, weddings or concerts. From the rest area you can walk down to the beach or follow the mountainside to the cave by the sea. On your way you will be passing geological formations with highly distinctive patterns in the rock. Trodden paths lead out to the lighthouses , to the rest area, towards the top of Bukkekjerka, and towards Børvågen. A narrow footbridge on the path to the lighthouses allows you to walk dryshod out to the two unmanned lighthouses.