Nordplan AS - Arild Waage
Hellåga
Hellåga rest area is located on the northern shore of the Sjona fjord, with a view towards the archipelago in the west.
Landscape architect:

Architect:

Nordplan AS - Arild Waage

Finished:

2006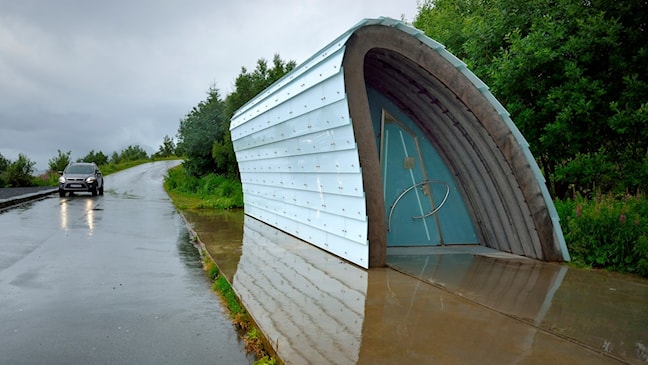 Its striking service building has the shape of a wave, built as a unique concrete structure with a façade covered in tempered glass. The site also has a waste-dumping station for camper vans.
This project was developed on the site of a previous rest area. The main intention of the landscape architect was to reflect the long lines of the mountain formations on the other side of the fjord, as well as to improve accessibility to the water's edge. The rest area was designed on the basis of two different impressions of the landscape. From the large gravel-covered terrace the view opens to the immensity of the landscape, with the ocean and the mountainsides, and across the fjord to the sky and the view of the archipelago. From the gravel terrace, visitors are guided down to the sea below, where benches are spread out over the rocks.
The servicebuilding is designed by Nordplan AS - Arlild Waage
The rest area is designed by Landskapsfabrikken AS - Inge Dahlman
Likholefossen
The Gaula river system can be powerful and wild, especially when the river runs high.
Architect:

Nordplan AS - Arild Waage

Finished:

2006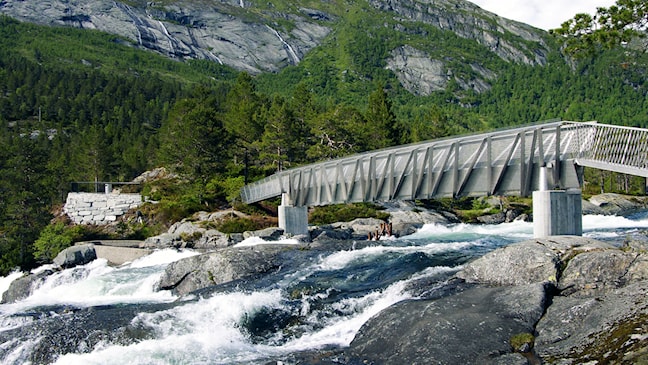 The Likholefossen waterfall was selected as a rest area to provide travellers with a first-hand experience of one of the numerous spectacular waterfalls in the Gaula river system. The steel bridge across this waterfall makes for an extraordinary experience, especially when the river runs high. The slender L-shaped stainless steel profiles have been spaced so as to create a shimmer of light and reflections of the river, giving the bridge a rough and suspended character. From the bridge, a "river path" skirts the protected stream. A plain car park and groups of benches have also been added along the path leading to the bridge. A walk over the flexible steel bridge across the Likholefossen waterfall makes for a close encounter with the forces of nature.